A custom trailer by
"Best Toys,"
that works with all Classics and Henkei Optimus Prime Figures. Opens up to reveal repair bay inside, and can store 1-2 Classics figures inside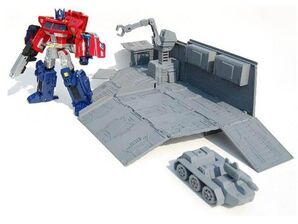 once closed. There is also a detachable wheel section that is roller as seen in the images. Originally available as both a Silver and Red Version as well as a Black Nemesis Version, and currently Purple Shattered Glass and Clear...Ghost? Cloaked? versions.
In addition to this, a later clippy dealy was released which allowed the trailer to work with deluxe Animated Optimus Prime as well. Kinda neat.
Ad blocker interference detected!
Wikia is a free-to-use site that makes money from advertising. We have a modified experience for viewers using ad blockers

Wikia is not accessible if you've made further modifications. Remove the custom ad blocker rule(s) and the page will load as expected.