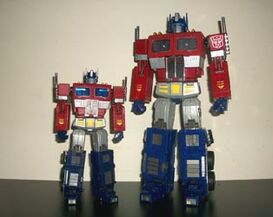 IGear; Obscuring the line between Optimus Prime and a religious icon since 2009
IGear's claim to fame, the Faith Leader, is a smaller scaled version of Masterpiece Optimus Prime.
He has a different head. Thats about it.
...
He has teammates from IGears other products, Arcee and Bumblebee and lives in the dollhouses IGear produces.
Ad blocker interference detected!
Wikia is a free-to-use site that makes money from advertising. We have a modified experience for viewers using ad blockers

Wikia is not accessible if you've made further modifications. Remove the custom ad blocker rule(s) and the page will load as expected.