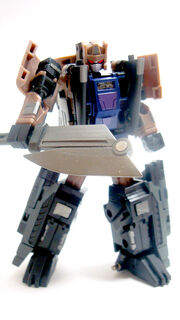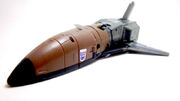 EXPLORER
was always into his work, but when his gestalt prototype began to fail, he had to sacrifice himself, and his friend
"Munitioner,"
to get it working.
EXPLORER, or TFX 02A as he is refered to on his packaging, is a determined scientist who is not afraid to get his hands dirty. He transforms into a brown and tan unmanned aerial vehicle, which has no windows. His tailfin turns into his main weapon, a terrifying battleaxe.
Together with his friend "Munitioner," and the 3 failed members of his prototype, they can form the mighty "Colossus."
EXPLORER is a product of FansProject.