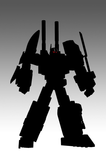 This page is a directory to some of the figures on this wiki, and who represents them. If the product is applies to a certain criteria, it will be mentioned below. If the product is a figure, or the name is self explanatory, there will be no suffix.
Autobots! Transform and Roll Out!
Optimus prime
Hot Rod / Rodimus Prime
​Ultra Magnus
​Springer
​Arcee
Bumblebee
​Blaster
​Cliffjumper
​Dinobots
​Firestar
​Powerglide
SeaSpray
​Superion
​Wheelie
Decepticons! Convert and Destroy!
Megatron
​Devastator!
Bruticus!

​Collosus (upgrade kit)
​Bruticus Components

Soundwave
Frenzy and Rumble
​Shockwave
​Reflector
​Insecticons
Miscellaneous.
Energon
​Headmasters?
Teletraan-1
Ad blocker interference detected!
Wikia is a free-to-use site that makes money from advertising. We have a modified experience for viewers using ad blockers

Wikia is not accessible if you've made further modifications. Remove the custom ad blocker rule(s) and the page will load as expected.