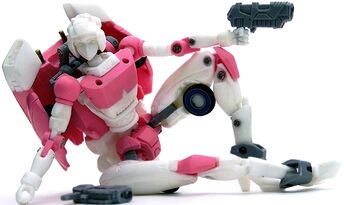 CyberFemBot A.R.C. is a third party toy based on Arcee that was produced by
Hal
Zucati of Rabid Squirrel Productions. Previously never released in any official toy form at the time, A.R.C. was arguably the first Arcee toy ever made in any relatively large quantity. The toy was produced in several colors, including Arcee's original colors, and was available both assembled and unassembled. It has a transforming head that resembled Daniel Witwicky's exosuit, a feature which distinguishes it from other third party Arcee toys.
A.R.C. transforms from pink and white robot to pink and white convertible and back.
Features:
2 Guns
Transforming head
Ball Bearing Wheels
Rubber Tire tread
Hand-assmebled and fitted
External links
Edit
Ad blocker interference detected!
Wikia is a free-to-use site that makes money from advertising. We have a modified experience for viewers using ad blockers

Wikia is not accessible if you've made further modifications. Remove the custom ad blocker rule(s) and the page will load as expected.