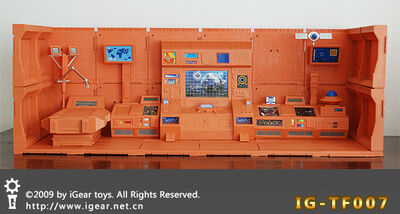 IG-TF007 Computer Command Center is a product of IGear, released in 2009
The Computer command center is a pre-assembled kit to emulate Teletraan 1, the transformers original base. the setpiece is assembled from 39 pieces, as well as a sticker. A scanning satellite, and tapedeck are also Included. The set is in scale with the official transformers classics figures, and IGear's own Faith Leader.
Ad blocker interference detected!
Wikia is a free-to-use site that makes money from advertising. We have a modified experience for viewers using ad blockers

Wikia is not accessible if you've made further modifications. Remove the custom ad blocker rule(s) and the page will load as expected.