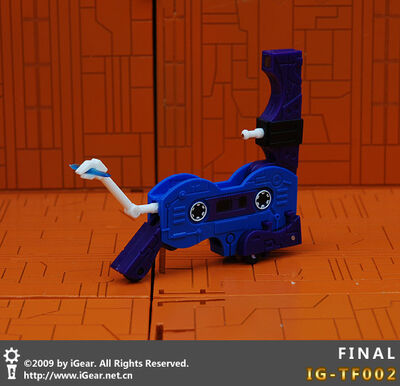 Memory, my only precious
The Heaven,
The War,
And...... The Hell
Now I'm expendable!
I have a dream
But......
BOOOM
Autoscout Casette was originally a Cybertron Warrior in the war over its home planet. The bot received mortal injuries in battle, and was rebuilt into a robotic scouter. it was used to examine Korlonium Crystals . Contact with a shard caused it to explode.
Autoscout is a product of IGear toys, as part of the IG-TF002 Pack. The toy is capable of converting into a cassette from the aforementioned. It is able to store in G1 Soundwave's cassette deck, making it also compatible with Sonicron. The Autoscout is capable of holding any one of the three Korlonium Crystals included in the hand of its observation arm.
Ad blocker interference detected!
Wikia is a free-to-use site that makes money from advertising. We have a modified experience for viewers using ad blockers

Wikia is not accessible if you've made further modifications. Remove the custom ad blocker rule(s) and the page will load as expected.